BUY CD'S | NEWS | VIDEO | GIGS | BIO | MUSIC | PICTURES | SONGLIST | FACEBOOK
News - News - News
February 2021
Another new album on the way. Titled "Comfort Or Confrontation". It's a 10 song cycle project.
March 2013
It's been a long road but the new album is completed. It's called INTERSTATE DFF. It should be available on CD and online this Spring.
October 2013
New album almost completed!
I've been working on my next album for the past year and it's getting real close to being finished. Working at Byrd House Recording in South Austin. 8 songs sounding great promising to be my best work yet!
May 2011
Read this great review of the Two Angels CD from the "Muse's Muse"
March 2011
3 unofficial SX** shows coming up..
Wednesday, March 16 4 pm Giddy Ups
Wednesday, March 16 10pm Uncorked Wine Bar
Friday, March 18 9:00 - 9:30pm B.B. Rovers
January 2011
It's another New Year. Best wishes for a healthy, happy New Year to all!
Friday, January 7 10:00- 11:30 CD Party at MOMO's 618 W 6th St., Austin,TX...also on the bill: Low Expectations 8:00 and Tyagaja Midnite!
Tuesday, January 11 7:00 Fox 7 Good Morning Austin Music Show...Live performance
Saturday, January 15 7:00-9:00 Live at Tom's Tabooley 2928 Guapalupe St.
November 2010
Upcoming shows November 13 @ Ross' Old Austin Cafe, North Austin; Novemberr 20 @ Instore Show for Two Angels @ Antones Records, http://www.antonesrecordshop.comAustin, TX .Upcoming Gig Schedule
October 2010
The new album Two Angels is out now. CD available from this website:Buy CD's Direct From Danny's Website or CD's and digital downloads (mp3) from CD Baby:CD's & MP3's for sale at CD BABY
The CD Release Party will be held Sunday, October 24 4:30 at the Spider House Bar and Cafe in Austin, Texas.CD Release Party @ The Spider House, Austin, TX We'll be performing on the patio, a real nice location for an outdoor show. Join Debra and I as we perform all the songs from Two Angels live.
Upcoming shows October 15 @ Applebees, North Austin, October 16 @ Farmer's Market @Barton Creek Mall, and the CD Release Party October 24 @Spider House, Austin TX...Upcoming Gig Schedule
July 2010 Had a great time in California. Shows in Petaluma and Willits went great. Hiking in the redwoods was fantastic. Upcoming show at Applebee's in North Austin, Friday August 6. First time playing there.
June 2010
Finished recording 11 songs that will comprise my next album. Great time recording at The Zone in Dripping Springs. Jamie Oldaker producing and playing drums. Mike Morgan and Pat Manske tracking and mixing. Getting ready to master the tracks and let the world hear it! Got to use a variety of instruments including 12 string acoustic, electric guitars, bass, Hammond Organ, Banjo, Pedal Steel, Electric Sitar, Harmonica, and Ram's Horn!
I'm contributing a version of Sky Saxon's "Just A Dance" for the upcoming tribute project on GRA Recordings. Very happy with the result and hoping Sky would be happy with our effort. Much thanks to Sabrina Saxon for her encouragement and help.
Got to play with Dale Watson's band at his weekly Monday night show at The Continental Club in Austin, TX..Dale let me stand in with his band and I wowed the crowd with a smoking version of Buck Owen's "I've Got A Tiger By The Tail". Special thanks to Dale for letting me take the mic and use his custom amp, that night.
July I'll be travelling along Highway 101 in northern CA, with shows July 8 at Shanachie Pub in Willits and July 14 at Lagunitas Brewing Sanctuary in Petaluma...More shows TBA

December 2009
Recorded 2 new songs at The Zone in Dripping Springs, TX. Jamie Oldaker producing and playing drums. Click on the icon to hear the new single "Another New Year"

July 2009

I've been spending some time getting back into my sitar and pedal steel guitar playing. The acoustic shows are going real well and the 12 string is ringing real nicely. Strings..Strings..Strings...lots of 'em!
New songs have been simmering. Had some choice out of town shows in NYC and Nashville. New recordings in pre-production. Excited about my recent and upcoming debut shows at some great Austin locations. Ross' Cafe, Cafe Mundi, and Ski Shores.


March 9, 2009

Danny's song "Pray For Rain received an Honorable Mention from Mike Pinder's bandwars contest on songwars.net. Danny has been a fan of the Moody Blues for a long time and is honored to receive the accolade from Mike, the original keyboard player for the Moody Blues.

Upcoming show on Tuesday, March 17 from 7:30-11:30 pm at SHELLERS BARRELHOUSE BAR at the HYATT CONFERENCE CENTER in Lost Pines, TX..its located between Austin and Bastrop off of Hwy 71 a little ways past the airport. Free, come and enjoy the scenery and music.

Catch Danny Fast Fingers Band at the (512) Brewing Company's Spring Open House on Saturday March 21. Time: 2-5pm. The event will feature beer sampling and the introduction of (512)'s ALT beer. Live music brought to you by Danny Fast Fingers and band.

February 11, 2009

The live show/interview on BRYAN CITY LIMITS went great. Thanks to Hugh Gallagher of KEOS 89.1 for having us on the air!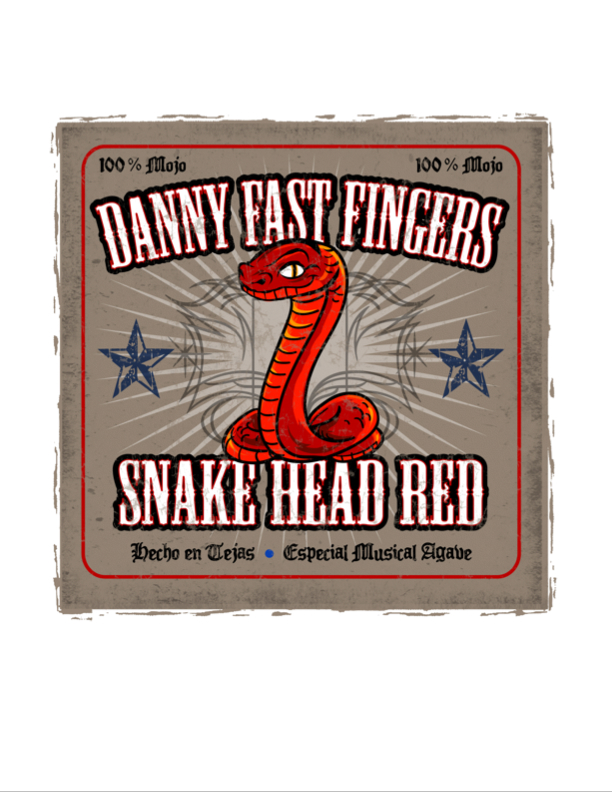 News Archive 2009:
On Friday February 6, at 9:00 pm we will be featured on the radio show "BRYAN CITY LIMITS" on KEOS 89.1 broadcast from Bryan /College Station. Tune in if you can. Debra and I will be interviewed and perform live in the studio.

News Archive 2008:
Don't Worry Go To Happy Hour....Next show on Thursday September 18 at MOMO'S In Austin. Free Happy Hour. The following night, Friday September 19 we'll be in Bastrop at Grace Miller's Restaurant.. Check the gigs section for upcoming shows after that.
The CD Release Party at MOMOS was great. There wasn't an empty seat in the house, We played songs from Snake Head Red. Everyone dug the music, the pizza from Frank and Angies, and the Snake Head Red cake from HEB. Thanks to Betty Soo for facilitating the event and thanks to all of you who came down to watch the show as well as all of you who bought the new CD and T-shirts.
The official Snake Head Red CD Release Party will be at MOMOS on January 31, 2008. Pre show party at 7:30. Music from 8:00 to 8:45.
In celebration of the upcoming release of "SNAKE HEAD RED" , Danny will be playing a string of shows starting with a morning appearance on Fox TV Morning Show Thursday morning December 13 at 7:30 am
The next evening Friday December 14, Danny will be at Angels Ice House in Spicewood with band
Saturday Night December 15 Danny will be at Waterloo Ice House in Austin. This will be an acoustic show with Debra Parr on bass.
Wednesday December 19, Danny will be at HILL'S CAFE in Austin . This will also be an acoustic show with Debra on bass.
Thursday December 20 , Danny will be at POODIES in Spicewood to cap off this momentous week.
Come to one or all of these show :) The new cd will be available.